WHAT WE OFFER
FROM RESPECT TO REWARDS,
WE OFFER OUR TEAM THE BEST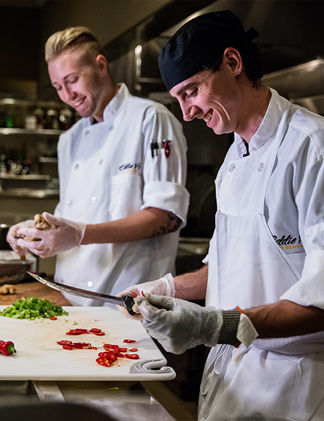 BENEFITS
- COMPETITIVE PAY, EVERY WEEK
- MEDICAL, DENTAL AND VISION COVERAGE
- FLEXIBLE WORK SCHEDULES
- FLEXIBLE SPENDING ACCOUNTS
- DINING AND GIFT CARD DISCOUNTS
- MULTIPLE INSURANCE OPTIONS: LIFE, HOME, AUTO, CRITICAL ILLNESS/ACCIDENT AND SHORT-TERM DISABILITY
- MATCHING 401(K) PLAN AFTER ONE YEAR OF EMPLOYMENT FOR TEAM MEMBERS 21 AND OVER
- WIRELESS PHONE SERVICE, COMPUTER LOANS AND MORE
TRAINING
Because we are invested in your growth and success, our organization offers extensive training and self-development programs. You will participate in a structured training program to help you learn more about the company, our brands and our expectations.
On-the-job training is provided by Certified Trainers – team members who have completed certification to train others.
Managers will participate in a 10-12 week training program.
Our easy and interactive online training system and videos make learning engaging.
Self-development is supported for cross-training and new restaurant opening positions.
On average, new team members receive 40 to 80 hours of training (depending on their role) through video and hands-on instruction.
Company values and expected behaviors are woven throughout the training to reinforce that how we treat our guests – and each other – is as important as the specifics of the job itself.