ABOUT US
ENDLESS OPPORTUNITIES AT EDDIE V's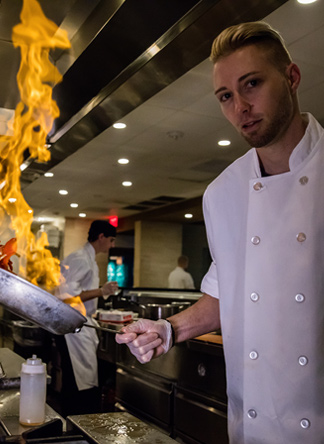 CULTURE
We provide a diverse and inclusive culture and have been voted one of Fortune's 100 Best Companies to Work for multiple times. Our people, who are best-in-class, are committed to living our principles every day to provide our guests with the ultimate dining experience.
I AM EDDIE - I will do whatever it takes.
GENUINE LOVE OF PEOPLE - A sincere interest in the well-being of our guests, our team and our community.
TEAMWORK - Always looking for opportunities to help my team.
BEING OF SERVICE - Obsessed with fulfilling our guests' expressed and unexpressed wishes.
INTEGRITY - Doing the right thing, even when no one is looking.
BEST TODAY, BETTER TOMORROW - Never stop learning, teaching and improving.
I always tell people how fortunate I feel to work for this company. I have become financially independent during my time here, to where I can save money, take vacations and live without worry. I have met some of my best friends here and also grown and developed as a person.
Molly, Server
I started with Eddie V's as a prep cook seven years ago. I have now opened seven locations and have been a chef for the past four years. There is always space to grow in your career and people around you for support. This is the number one company in the world, from our culture to our great benefits.
Frank, Sous Chef
If you want to be challenged to be better every single day and develop your skillset, this is the place for you. The details and little things we do to indulge our guests set us apart. Being part of a team that never settles for less than perfection is the most important catalyst for success.
Stephen, Executive Chef Partner
Being given the opportunity to run an incredibly successful business allows me to hire and train great individuals and watch them grow. Nothing is more rewarding than investing time and energy into deserving people to help them perform at high levels and elevate their careers.
Alika, Managing Partner
If you want to live your best life and work with powerful and motivating individuals, Eddie V's is where you should be. I've been given opportunity after opportunity to mold myself into a restaurant professional. This occupation is mentally rewarding, exciting and highly respectable.
Joel, Server
CAREER
Eddie V's is a unique restaurant concept poised for growth, with first-class dining, an engaging cocktail culture and live music experiences in our V-Lounge. We offer ground-floor opportunities for advancement and a supportive environment that enables you to achieve your highest career aspirations. Here, you will find:
A DEDICATED FRONT AND BACK-OF-HOUSE RESTAURANT STRUCTURE THAT OPTIMIZES TEAM MEMBER AND MANAGER PERFORMANCE
Level 1 sommelier training for all managers
40% promotion rate from hourly to management positions
COMMUNITY
We are proud to partner with the USO for its annual toy drive each holiday season. In addition, every day, in every Eddie V's location across the country, team members spend extra time to prepare, package, freeze and store unserved, surplus food for donation to local food banks, shelters and other charitable organizations. Since 2012, Eddie V's has donated:
125,000 POUNDS OF FOOD TO HELP THOSE IN NEED